For This I Spent Four Years In College? (not to mention grad school?)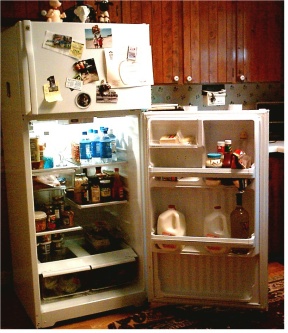 I cleaned out the refrigerator today. It took me well over an hour. I removed everything, wiped down the inside and cleaned all the shelves and drawers. Then I put everything back, trying to bring a semblance of order to our main food storage system. So I thought I'd share the end product on the web.
Yes, this is boring, but it's my life. What's worse is that I know full well in a few days' time the refrigerator will look just as bad as it did this morning. I've always looked on cleaning as an exercise in futility, even though I spend a good part of my day doing it.
That's how I was inspired to start writing my first novel,
Caviar Dreams
. I was scrubbing out the bathtub and it wasn't getting any cleaner. I thought "What's the point? I might as well be writing. At least whatever I do today will be there tomorrow." Five years later I had a book and the bathtub was somebody else's problem, as we'd moved to North Carolina.
According to
Salary.com
, if I was getting a fair wage for what I do, I'd be getting $90,000 a year. Of course we all know life is not fair and I get sweet FA.
I admit my job is easier than most stay-at-home moms. I only have one child, which eliminates the problem of sibling rivalry right off the bat. She's nine years old, so she's pretty self-sufficient. The days of diapering and dressing her are long gone. She can even make her own lunch and this summer I intend to teach her how to do her own laundry. (Hey, if she can operate a Gameboy, she can operate a washing machine).
But it's still work, and not particularly fulfilling work. No one notices what I do unless it's not done. "There are no clean socks! The kitchen's a mess! Where's dinner?"
However, I've had the chance to see my daughter grow. I've seen all her milestones in person, no daycare provider told me about her first steps or her first word. I'm with her when she gets on the bus to go to school and I'm there when she gets home. I also have had the opportunity to help out in her classroom.
So, even though it sounds like it, I'm not complaining. I have no regrets about leaving the working world to be Aly's mom. Aside from the bathtubs and refrigerators, it's definitely been time well spent.
Posted by judy5cents at 11:53 AM EDT