Stil Missing
Over the July 4th holiday, we went back to my home town of Batavia, Ohio, a great place to grow up by the way. Everyone knew your business so everyone stayed out of trouble.
It used to be like Andy Griffith's Mayberry, but lately it's become a bit of a ghost town. When the Eastgate Mall opened in 1978, all the local stores that sold groceries and hardware and major appliances closed down. So most of the real estate on Main Street has been taken over by county offices. (Batavia is the county seat).
One thing you notice right away is the bedraggled yellow ribbons hanging everywhere. They've been out since April of last year, when Batavia resident Pfc. Keith Matthew Maupin was taken hostage by insurgents in Iraq. He was reported to have been executed June 28, 2004 when the Arab television network Al-Jazeera broadcast a fuzzy video showing a soldier identified as Pfc. Maupin shot in the head. But US officials declared the video inconclusive.
Officially Sgt Maupin (he was promoted in absentia) is missing in action, assumed to be a prisoner of war.
This was a story you heard a lot about. My parents saw the big news trucks parked on Main Street while the people from the news networks interviewed the locals about how awful it was to lose one of their own in this war. President Bush even spoke to Sgt. Maupin's parents when he came to Cincinnati during the 2004 campaign.
Sometimes I wonder when he's thinking about the war, which he says he does every day, if he thinks about Matt Maupin and his family and friends.
Now he's been forgotten. The nation's attention has been diverted by Michael Jackson's trial and Natalie Holloway's disappearance and who wins on American Idol. It's only one kid from a town no one's ever heard of. It was sad, sure. But life goes on.
Life is on hold for the Maupins. Their son is gone, but there's no body to bury and the Red Cross can't send him CARE packages in prison. No one knows where he is and no one seems to care.
Except for the people in Batavia. The ribbons are still there. The Snappy Tomato at the corner of Main and Riverside Drive still implores us to pray for Matt Maupin and his family. Everyone in town continues to show their support of the Maupin family. Even without the cameras rolling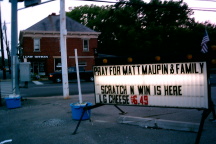 Posted by judy5cents at 4:49 PM EDT
Updated: Friday, 22 July 2005 8:28 PM EDT