You best friend's in love with a lying, scumbag thief. How do you tell her?
You'd better do it soon, because what she doesn't know could kill her.
When her best friend Debbie falls in love with a handsome stranger, Lisa Watson is skeptical. She thinks Derek is far more interested in Debbie's bank accounts, than her kind heart and sweet disposition.
And she's right. This small-time hustler has bigtime ambitions. He intends to blackmail his lover Robert Helton, a wealthy corporate mogul, desperate to hide his secret gay life. But Derek's plans go awry, and Debbie is found dead in her apartment.
Shaken by her friend's death, Lisa unwittingly becomes involved with her friend's true killer, not realizing until it's nearly too late that she too is in grave danger.
To read the first chapter, click here:
BUY THE BOOK
Loved what you read and just have to have a copy? Order it now. Operators are standing by. Dig up your credit card and click on the link below.
The offical coffee mug for Caviar Dreams

IS THIS COOL OR WHAT?

Like the cover art for Caviar Dreams? Now you can drink your coffee and appreciate Martine Jardine's incredible book cover design, all at the same time. Imagine sitting at the office, sipping your java out of the official Caviar Dreams mug. It's sure to start a few conversations.

Where can you get one? Click on the link below: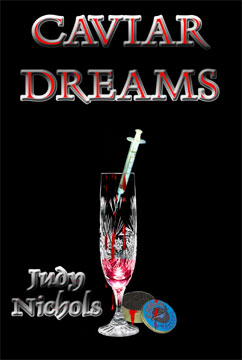 What people are saying about Caviar Dreams:
"Her characters are marvelous and fully-developed, and she constructs believable scenes of true conflict"
Midwest Book Review
"Judy Nichols pens a stunning glimpse into the con artists game of cat and mouse...Ms. Nichols writes dynamic characters that the reader can enjoy."
Fallen Angel Reviews
"It's almost as if the city (of Cincinnati) were a character as well, so real does she portray its streets and the people in them."
ScribesWorld Reviews
"I couldn't put it down."
Regina Scruggs, KUHF-FM, Houston
"Wonderfully ironic."
Liz Burton, Zumaya Publications
One of the very few suspense thrillers where the main character has a Master of Fine Arts degree from Miami University in Ohio.